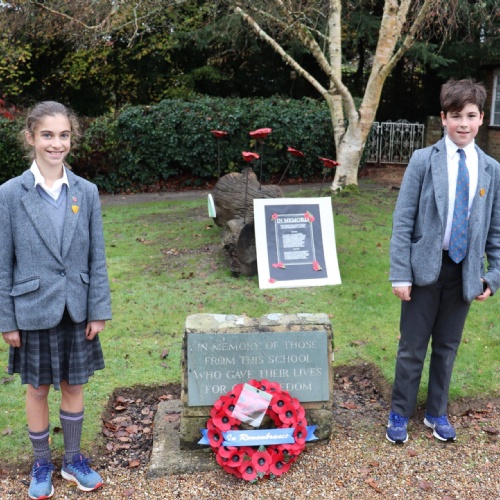 "At the going down of the sun and in the morning
We will remember them."
The Prep School gathered outside for two minutes silence at 11am on Wednesday 11th November to mark Armistice Day. A wreath was then laid on the school's Memorial in the Chapel Garden by Millie M, Head Girl and Henry H, Head Boy, accompanied by Mr Newton.
In Pre-Prep, children also gathered for two minutes silence and took to arts, crafts and baking to commemorate the day.
Nursery made Poppies to take home, while Reception created a wonderful Remembrance Day display in Pre-Prep and decorated poppy biscuits. Year 1 discussed the meaning of the day, the making of the poppies and where the monies go and who the veterans are, and Year 2 painted pictures using the iconic soldier silhouette for inspiration and collated them into a hallway display.
More photos are available for parents to view on the Parent Portal.
Year 2 also talked about Jour de l'Armistice in their French lesson and made calligrammes of poppies and cornflowers. They learnt about how in France, a cornflower (le bleuet) is worn on Armistice Day, rather than a poppy, as French soldiers were historically known as 'les bleuets' due to their blue uniforms.