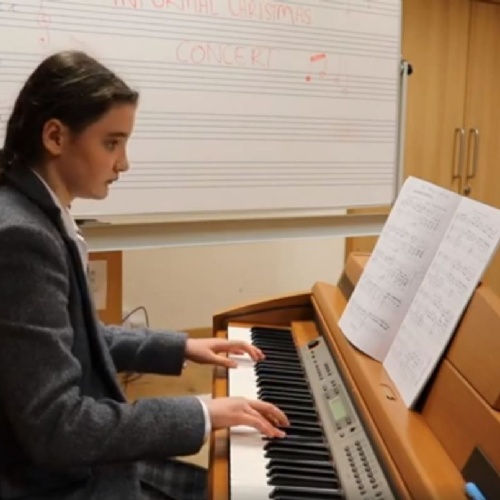 Our informal concert was the perfect opportunity for all of our instrumental pupils preparing for ABRSM examinations the following week to play one of their exam pieces in public.
The performers all enjoyed being a lovely supportive audience for each other. We had pianists, guitarists, clarinet, violin and a number of singers. Ella W on the piano and singers Tallulah S, Camille S and Rose BP were all performing for the first time as they prepare for their prep test.
Eliza B and Isabelle W gave us confident performances on the piano. There were beautiful tunes from our guitarists Joseph J, Edward F, Alex P and Isobel B. The singers gave us performances of music ranging from Opera to Musical Theatre with strong voices and entertaining performance. Well done to Cleo C, Hattie J, Eliza F, Eliza B, Gabriella S, Mya V and Sophie W. Isabelle W performed the Raider March on her clarinet and Clara E gave us a Minuett on her violin. String group also joined us to perform a little bit of Christmas with a carol.
Well done to all of our performers and of course to all the hard work put into this by their instrumental teachers.
Parents can click here to watch the concert on the Parent Portal.
Miss Philip, Music Teacher