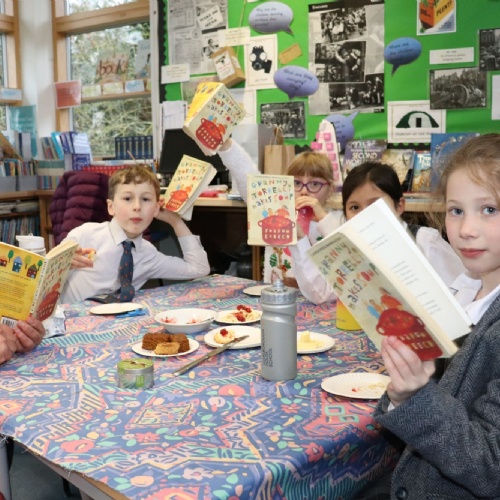 In Year 4, a very enjoyable part of our curriculum is our Group Reading sessions.
Each group has approximately six children who are guided by the same teacher throughout the year, this means that that we get to know our group very well and we all look forward to these special book sharing moments. Some of the books we have been reading this term are Grandma Torrelli Makes soup by Sharon Creech, a story of strong characters and meaningful relationships told through good old fashioned cooking. The Sheep-Pig by Dick King-Smith, a wonderful book full of gentle humour. The Amazing Story of Adolphus Tips by Michael Morpurgo, a heart-warming tale of courage and warmth set against the back drop of WWII.
It was a passage in this book that particularly inspired the children when the characters thoroughly enjoy scones and jam which were rationed during the war. We thought it would be a lovely way to end the term to have a scone and jam reading tea party! Reading books together improves our brain connectivity, increases vocabulary and comprehension. It is also wonderful for empowering us to empathise with other people and these benefits can last a life time.
MM