A wonderful day for the children and parents to enjoy with superb weather and some excellent performances from teams and individuals across nine athletics disciplines. With over 340 medals presented it was a successful day for very many children. Thank you to everyone involved, also to our cheerleaders who kicked off the day's events.
HOUSE CUP
The winning House was Egan with 258, Dunbar was second with 222 and Awdry third, and Hawkings fourth. Congratulation Egan.
Victor and Victrix Ludorum
Elliot F was the Victor Ludorum and Hermione SJP was the Victrix Ludorum. Congratulations to Hermione and Elliot.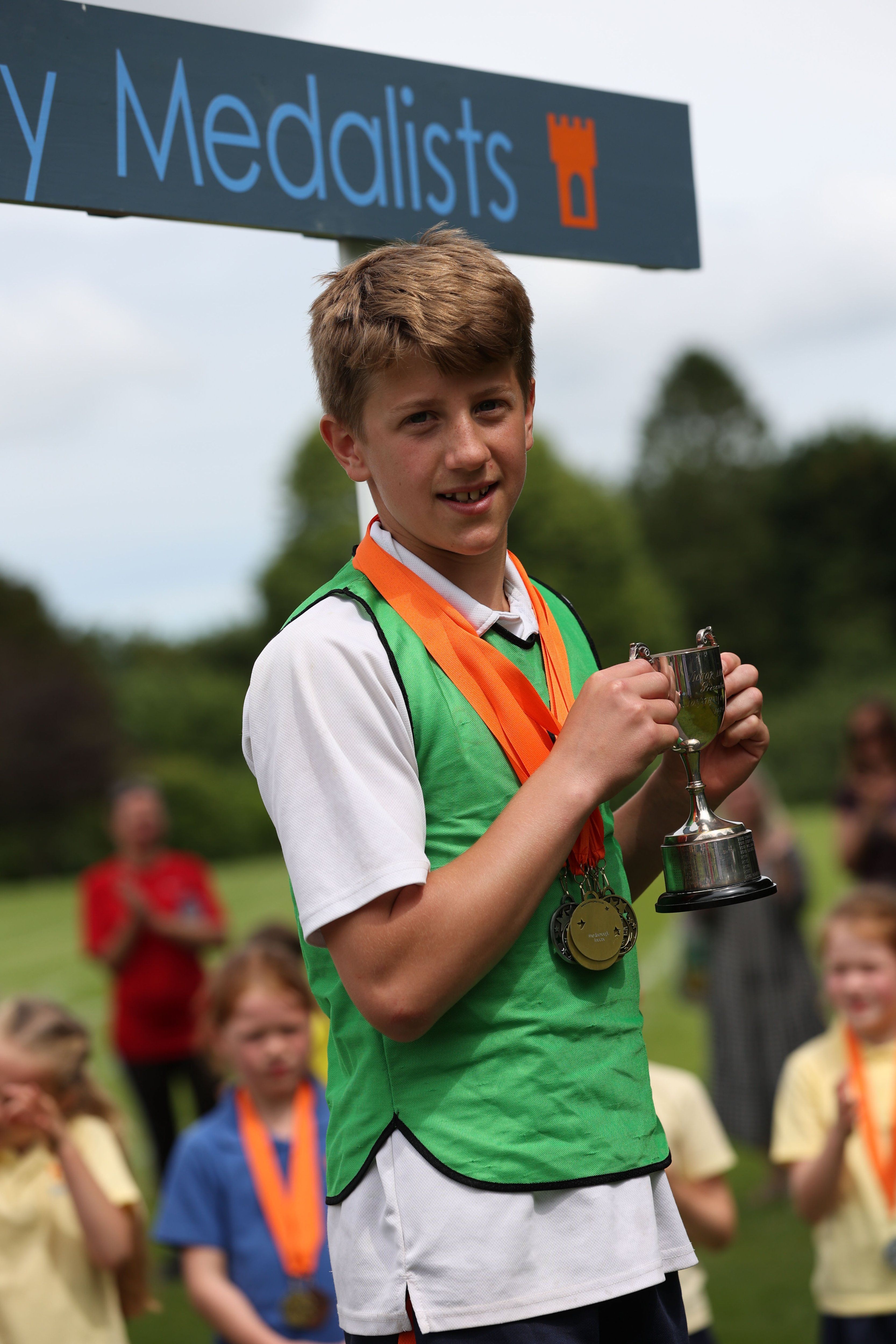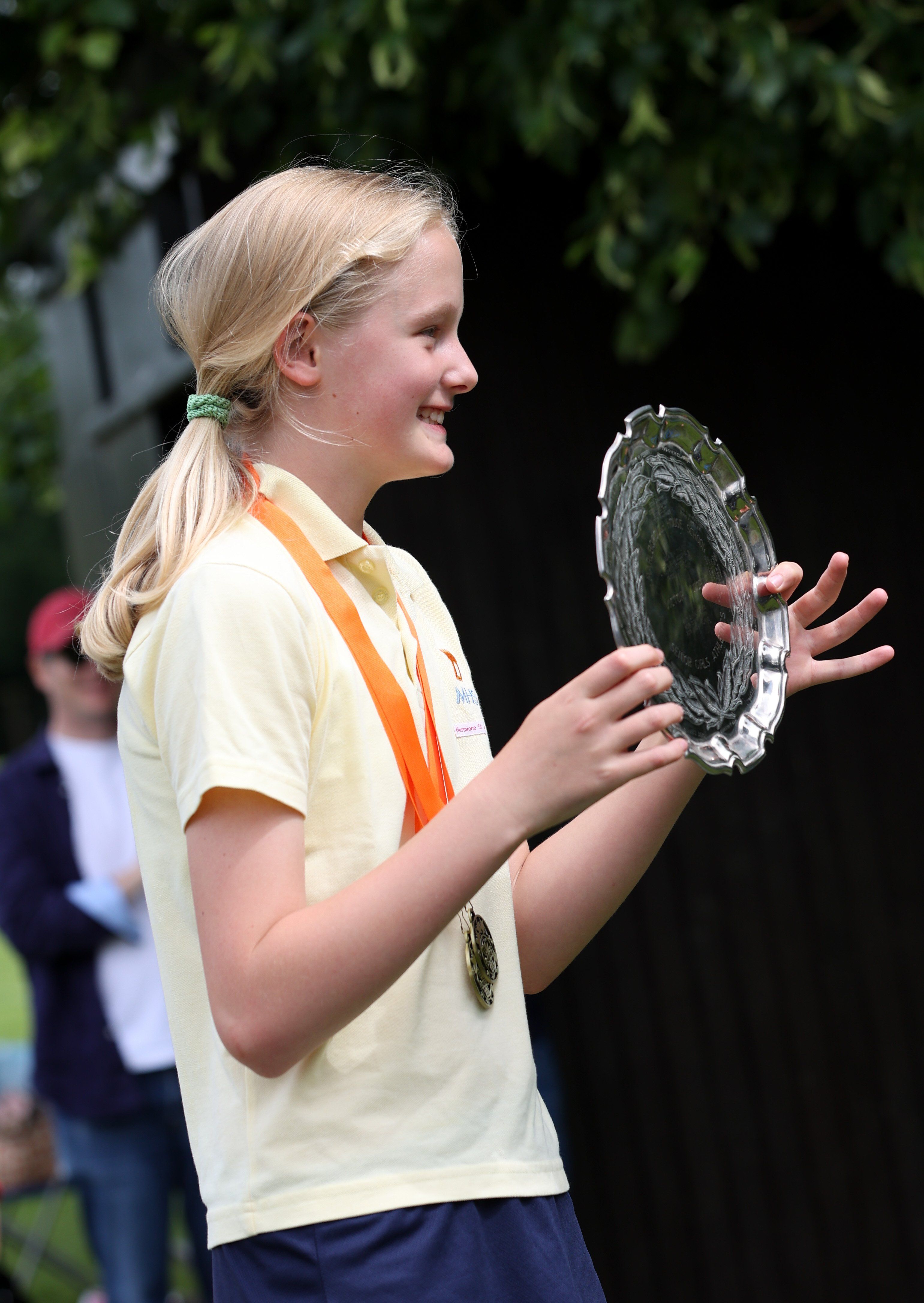 Congratulations also to all our record-breakers who achieved new times, heights and distances for events old and new.
Old records broken
Yr 8 Boys Long Jump – Elliot F with 4m90cm broke Kamran Ogilvie-Khan's records of 4.87m set in 2018
Yr 6 Girls High Jump - Holly and Ellie H both broke the High Jump record with jumps of 1.27m
Holly went on to break that with a jump of 1.30cm the record broken was Sarah Turner's jump of 1.25m set in 2006.
Year 5 Girls 70m Sprint - Emma G broke the girls 70m Sprint with a time of 11.28s who beat a record set in 2019 by Antonia Barry of 12.10sec
New records set (due to new format for this year's Sports Day)
Standing Triple Jump
Yr 5 Boys Barnaby P 5.15m
Yr 5 Girls Alex P 4.90m
Yr4 Boys Rafferty P 4.63m
Yr 4 Girls Emma E 4.60m
Yr 3 Boys Rory G 4.25m
Yr 3 Girls Charlotte B 4.05m
200m
Yr4 Boys Rafferty P 36.10
Yr 4 Girls Mila W 37.65
Yr 3 Boys Rory G 36.20
Yr 3 Girls Jessica P 37.00
60m
Yr4 Boys Ralph H 10.25
Yr 4 Girls Emma E 9.69
Yr 3 Boys Harry A 10.76
Yr 3 Girls Jessica P 10.77
Agility – 5 m cross
Yr 8 Boys Rex C 14.36
Yr 8 Girls Emmy R 16.16
Yr 6 Boys Rob M 14.78
Yr 6 Girls Holly H 15.22
Yr 5 Boys Leo D 14.86
Yr 5 Girls Sylvie W 15.22
Yr4 Boys Toby G 15.43
Yr 4 Girls Olivia J 14.83
Yr 3 Boys Harry A 15.75
Yr 3 Girls Isabella B 15.62
Long Jump
Yr4 Boys Rafferty P 3.10m
Yr 4 Girls Annabel J 2.65m
Yr 3 Boys Rory G 2.95m
Yr 3 Girls Jessica P 2.59m
600M
Yr4 Boys Rafferty P 2min 09.89 secs
Yr 4 Girls Emma E 2min23.81sec
Yr 3 Boys William P 2min 27.18 sec
Yr 3 Girls Jessica P 2min 25.39 sec
Relays
Yr 3 Girls 4 x 100 m Dunbar 1.22.32
Yr 3 Mixed 4 x 100m Dunbar 1.20.18
Yr 4 Girls 4 X 100M Egan 1.24.76
Yr 4 Mixed 4 X 100M Egan 1.16.81
Yr 8 & 6 4 X 100m Hawking 1.13.51
Yr 5 Mixed 4 X 100M 1.13.51
RM, Head of Sport