The whole school celebrated their favourite books and characters, were inspired by visiting authors, entertained by a visiting theatre company and more - a fantastic carousel of activities that make up our annual Book Week at MHS.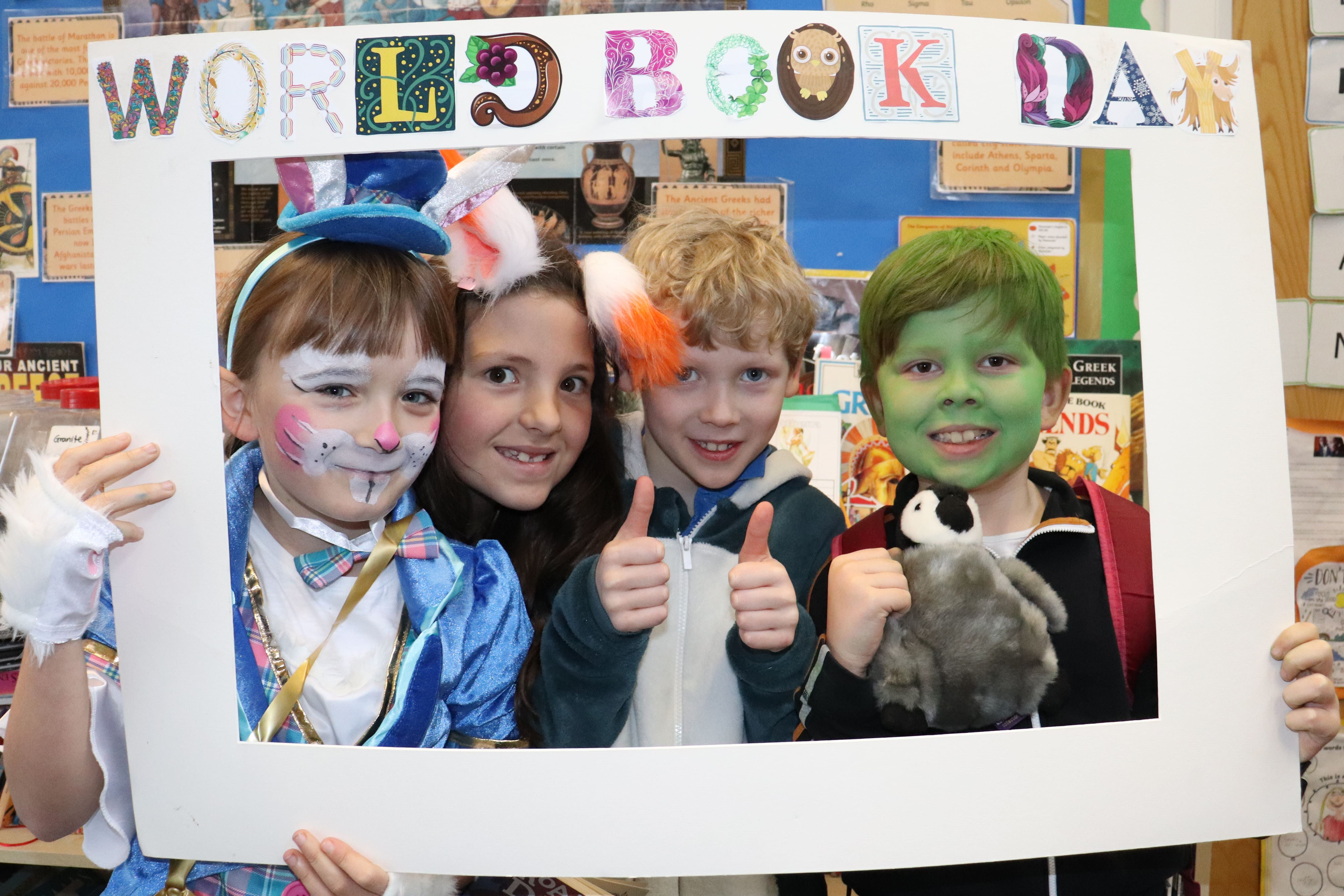 We started the week with an entertaining and enjoyable visit from Hobgoblin Theatre Company who gave children from Year 3-6 a humorous, light-hearted and fun-filled introduction to the Tales of King Arthur. It was such a joy to have another live theatre company in school again and the children responded with great enthusiasm.
Our wonderful Book Fair also took place in the Harrison Building on Monday and Tuesday and all the children across the school had the opportunity to spend some lovely time browsing through the fantastic selection of books provided by our bookseller. From all the purchases made, our school will enjoy having commission to spend on …what else? MORE lovely books! So thank you to all the parents for permitting their children to indulge in some literary retail therapy!
Our visiting authors this year were Perter Bunzl of "Cogheart" fame and Sarah Roberts, who is an Eco-expert having worked in conservation all around the world. She now visits schools with her picture books to promote environmental awareness.
On Tuesday, Peter introduced all Y4-7 to his wonderful series of books and talked about his journey from art student to animator to author. In the workshops, children were given the chance to learn how to animate a picture and then encouraged to write a short story about their creation. They thoroughly enjoyed the challenge.
Sarah Roberts came in on Friday to talk to the younger children about environmental issues and share some of her books: "Somebody Swallowed Stanley" and "Somebody Crunched Colin". Reception and Year 1 had a wonderful time listening to Sarah read her story. She made the story come to life as she explained other facts and got the children to join in using a 1, 2, 3 everyone shout the answer. Year 2 enjoyed hearing about her experiences working with sharks and really enjoyed listening to her shark bite experience and seeing her shark bite scar. The children also learned about her life as an animal behavourist and marvelled at her bravery as she shared her experiences such as swimming with marine animals. Sarah explained the concerns we all have about the dangers posed to our marine world.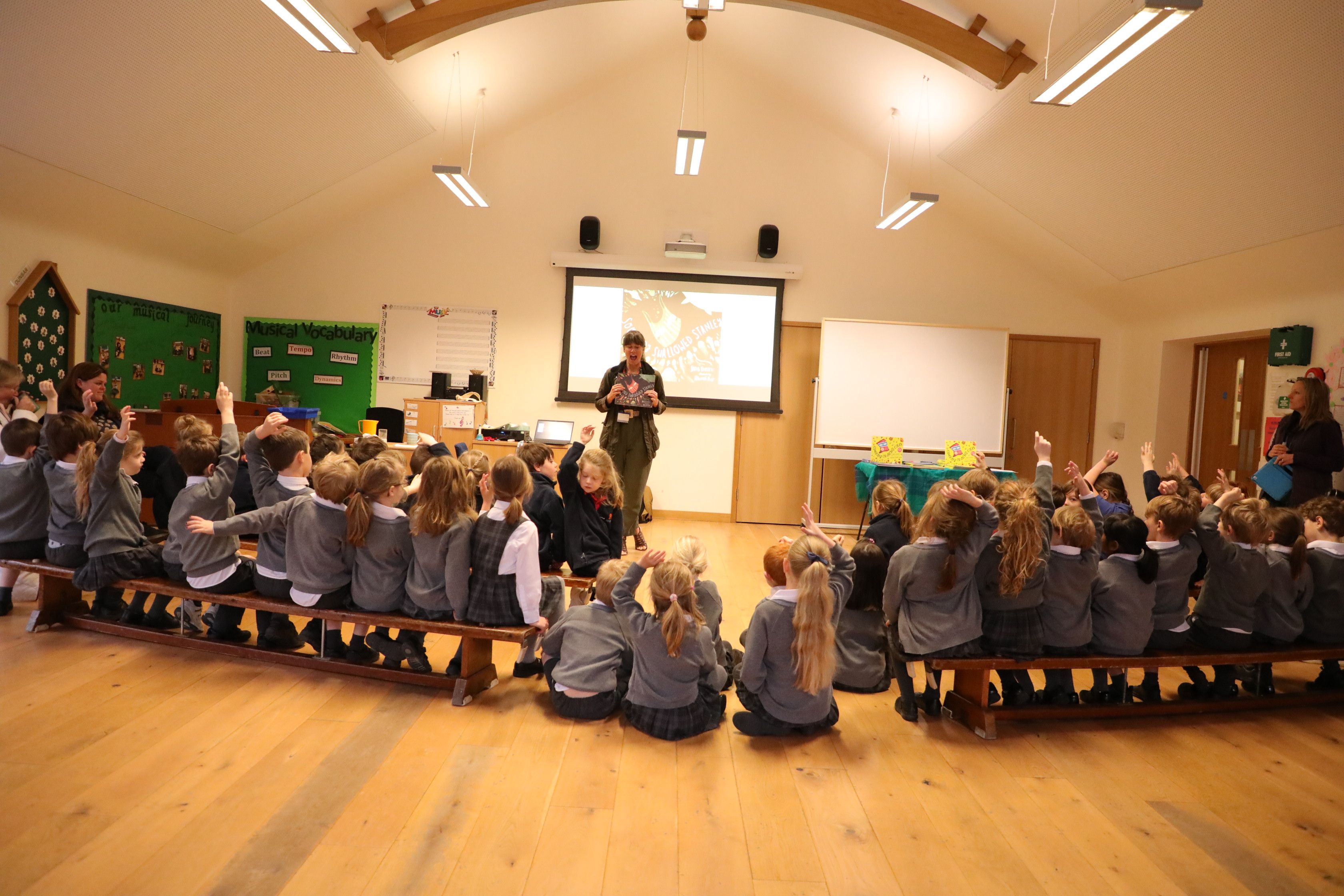 Year 6 also had a super special session with Sarah to link with their Geography work on Iceland. She showed them how technology is used to help with environmental conservation. They were able to see the real skeleton from a shark and also see her wounds from a shark bite (popular with children of all ages of course!). They also had the privilege of a sneak preview from her latest book that will be published later in the year about a carbon atom. Despite the serious nature of her messages on our environment, Sarah also gave us lots of hope about the future and talked about new developments there have been in this area.
Year 4 immersed themselves wholeheartedly into their Books and Branches Outdoor learning day on Wednesday and their enthusiasm for the great outdoors was very pleasing to see. Teamwork was evident from the very beginning when everyone helped carry everything needed for a successful day. Wrapped warmly in the splendid red Forest School suits with boots on feet, they arrived at our calm and tranquil outdoor classroom. Seated on the benches with views over the water, the children listened intently to the mythical story of The Green Man. They discovered that the story had been told for centuries and across many countries. As he is seen to be the guardian of the forest, the children were inspired to create their own Green Man faces out of a variety of materials in varying shades of green. The finished display of Green Men with their benevolent faces gazing out across our wonderful school grounds was very effective indeed.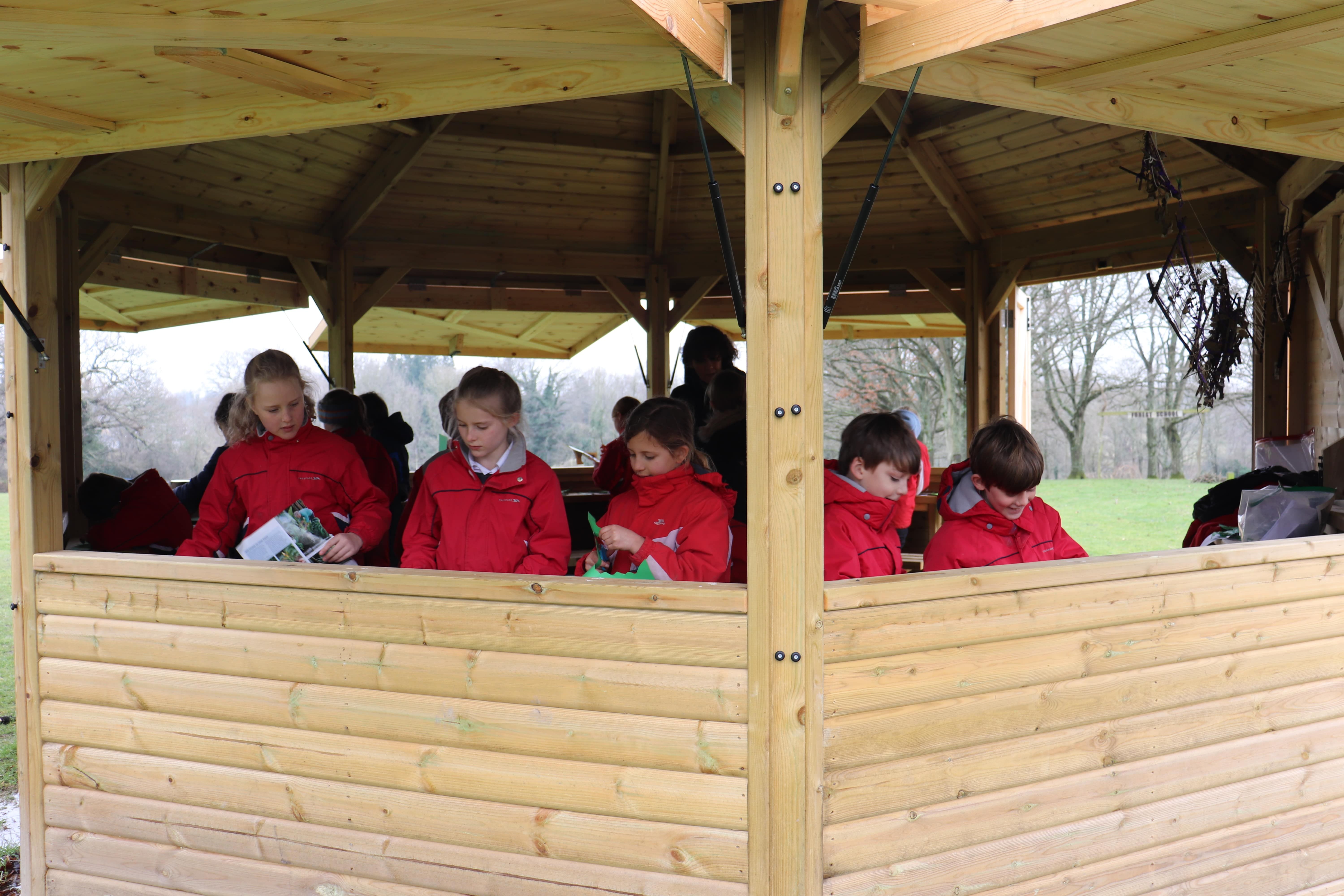 The highlight of the week for many came on Thursday when all the children in the school came dressed as a character from a book. You will have seen the many wonderful photographs of the children and many of the staff too, whose creations were imaginative, inspired and, at times, intriguing!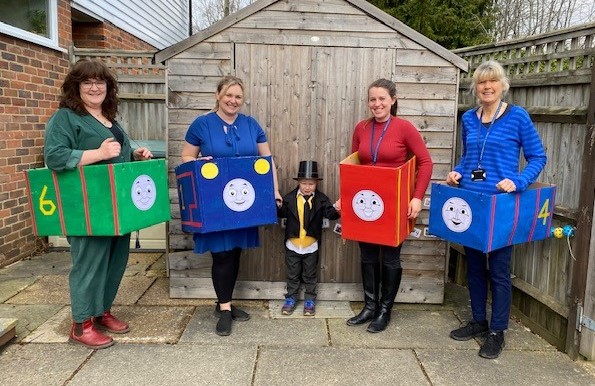 We had visits from many Mystery readers popping in across the whole school to share a good tale with the children, there were book quizzes, competitions to design book covers and bookmarks and on Thursday and Friday a Treasure Hunt around the grounds to discover hidden gems in the form of book covers. All in all, it was a fun filled and inspiring week celebrating our mutual love of books and reading.
Mrs Atkins
Head of English