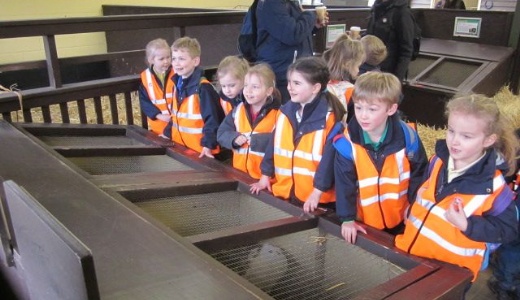 Our Year 1 children had a wonderful time at the Rare Breeds Centre!
The Year 1 children just loved seeing all the wonderful animals at the Rare Breeds Centre last Friday. They learnt a lot about all the animals that are kept there and especially loved the piglets and being able to stroke the rabbits
Then it was all aboard the farm trailer! They sat themselves down on the straw bales and enjoyed the ride, but it was bumpy! Their friendly driver took them right up to the Secret Lake where they disembarked and began to meander through carpets of (almost flowering!) bluebells and lesser celandine and under canopies of spring foliage just about to burst open. They watched out for the Troll under the bridge and dodged the Giant making his way back to his enormous pencils, before settling on the Giant's throne for a scrumptious picnic.
The Mysterious Marsh called our young explorers forward as they negotiated wooden bridges, swung from tyres, clambered round trees, flew through the air and kept their cool as they tiptoed across balancing bars. There was much laughter and the usual Year 1 teamwork as they helped each other around.
The biggest hit of the day for the teachers? Was it the squealing piglets, slithering snakes, crowing cockerels, bouncing bunnies, gorgeous goats? No, it was the Year 1 children!
Brilliantly behaved, great company and a memorable day for all.
Current parents please click here to see the Gallery of photos