French at Marlborough House seeks to develop the 'four skills' of speaking, listening, reading and writing. In studying a modern language, pupils are encouraged to value intellectual development, appreciate different cultures and to enhance their ability to communicate. Liaison with the Spanish Department ensures consistency of overall philosophy and unity of purpose for Modern Language teaching in general.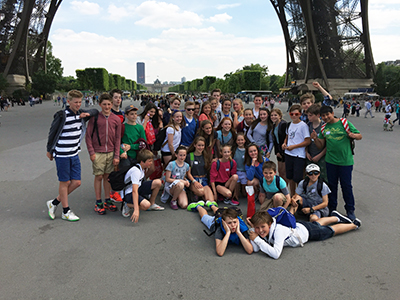 Through paired work, role play and hearing authentic French spoken recordings, children at MHS become proficient listeners, understanding informal instructions, requests, monologues and simple dialogues.
As speakers, practice in giving short presentations helps pupils respond to simple unprepared questions, to talk fairly freely about simple, age-appropriate topics.
Opportunities are also given for pupils to read and understand simple texts such as letters, brochures, menus, timetables and to recognise attitudes and emotions. The materials they use are relevant to their own experience and various techniques are specifically taught as aids to comprehending unfamiliar material.
Tasks such as writing simple messages or letters in response to stimuli written in French increase pupils' confidence, ability and technical competence in writing in French.