Spanish at Marlborough House is taken as an optional subject from Year Five, and the teaching develops the four language learning skills of speaking, listening, reading and writing. Close liaison with the French Department ensures a consistency of overall philosophy and unity of purpose for Modern Language teaching at MHS.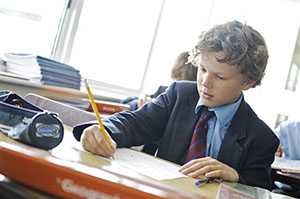 The teaching of Spanish is done through a variety of fun and purposeful activities. The programme provides a thorough basis of vocabulary, grammar and structures as a springboard for further study. The children take part in a broad range of learning activities including responding to spoken and written prompts such as shopping, ordering from a menu or finding directions on a map. In addition, pair work is used as a very effective tool to promote language learning as well as encouraging the children's social and co-operative skills.
We encourage positive attitudes towards speakers of foreign languages by listening to young native speakers, learning about Spanish culture, famous Spanish people and festivals and taking a cross-curricular approach to the planning of the programme.